Beaches Near Bodega Bay
Sonoma Coast State Park is home to a series of pristine beaches separated by rock bluffs and rugged headlands that wrap along the craggy coast, making it one of California's most scenic attractions. Fishermen, sunbathers, and picnickers can access the sand from more than a dozen points along Highway 1, where a variety of natural arches and secluded coves delight from sunrise to sunset.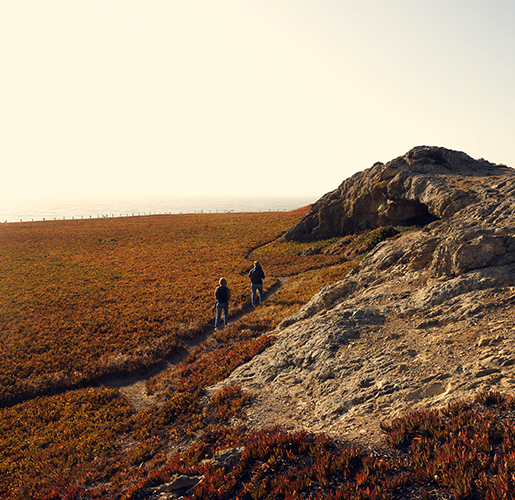 Activities
Bodega Bay is an outdoor adventurer's playground. Close to our lodge, enjoy one of the greatest kite flying areas in the world, go deep-sea fishing, tee off on the adjacent championship golf links, explore the many nature trails on foot, or relax on one of the miles and miles of nearby beaches.
Bodega Dunes
Bodega Head is backed by massive sand dunes and the longest beach on the Sonoma County coast. The fun of hiking barefoot is enhanced by distant views north up the rugged coastline.
Doran Park Beach
Just a 10-minute walk from our lodge, Doran Park Beach is a sheltered two-mile stretch of sandy beach and a picturesque place to swim, surf, build sandcastles, picnic, fly kites, or simply stroll along the shore. It features a boat launch and a rock jetty at the harbor mouth great for fishing, crabbing, and discovering sea life.
Goat Rock
Go beachcombing along this wild stretch of sand at the mouth of the Russian River. Goat Rock is part of the Russian River State Marine Conservation Area (SMRCA) and home to a colony of protected harbor seals.