Explore the Sonoma Coast
From the cinematic views of the wild Pacific shores to the green-gold expanse of rich farmland, Bodega Bay epitomizes tranquility.
Discover Bodega Bay
Activities
Beaches
Wine & Dine
All
01.

The Lodge at Bodega Bay

Between the sandy shores and seagrass beds or the outdoor fire pit and wooden rocking chairs, see for yourself what makes our location such a stunning place to be.

103 Coast Highway One

Bodega Bay, CA 94923
02.

The Barlow Marketplace

Stroll the dog-friendly outdoor market district where over 30 local artisans offer one-of-a-kind, independently made goods, from hand-poured candles and soaps to California-grown olive oil.

6770 McKinley St, Sebastopol, CA 95472
03.

Spud Point Crab Co.

This beloved family-owned crab company serves freshly-caught crab and wild king salmon as well as other seafood favorites, including Carol's World Famous clam chowder.

1910 Westshore Rd, Bodega Bay, CA 94923
04.

Sonoma Coast Vineyards

Specializing in handcrafted wines sourced from the cold-climate vineyards west of the Russian River Valley, Sonoma Coast Vineyards presents a unique spin on traditional Sonoma winemaking.

555 CA-1, Bodega Bay, CA 94923
05.

Hog Island Oyster Co.

At Hog Island Oyster Co., all five edible oyster varieties are grown, harvested, and shucked locally on 160 acres of intertidal lands in Tomales Bay.

610 1st St Suite 22, Napa, CA 94559
06.

Freestone Artisan Cheese

Designed to collect and offer the best of Sonoma, discover handcrafted cheeses, small-batch jams and other gourmet goods made by local artisans at this independently-run small business.

380 Bohemian Hwy, Freestone, CA 95472
07.

Gold Coast Coffee & Bakery

Choose from a veritable menu of espresso and coffee drinks sourced from house-roasted beans alongside homemade pastries, baked daily in an authentic wood-fired oven.

23577 Steelhead Blvd, Duncans Mills, CA 95430
08.

Goat Rock Beach

Go beachcombing along this wild stretch of beach at the mouth of the Russian River, also a protected harbor seal nursery.

Highway 1 and Goat Rock Road
Jenner CA, 95450

24 MIN - 12 MI
09.

Armstrong Redwoods

Marvel at nature's tallest skyscrapers—more commonly known as California's native, awe-inspiring Coastal Redwoods—at this 805-acre natural reserve, located just north of the Russian River.

17000 Armstrong Woods Rd, Guerneville, CA 95446
10.

Doran Beach

From fishing and stand-up paddling to kite-flying and sunbathing, Doran Beach sets the perfect stage for family-friendly fun on the shores of Bodega Bay.

201 Doran Beach Rd, Bodega Bay, CA
11.

Point Reyes National Seashore

From 1,3000 ft. hikes up Mount Wittenberg to whale watching and visits to historic landmarks, Point Reyes National Seashore presents a wide range of invigorating and educational outdoor activities.

Point Reyes Station, CA 94956
12.

Sonoma Coast State Park

Nestled on the edge of Sonoma, this 16-mile stretch of the coast features broad, sandy beaches and secluded coves ideal for fishing, family picnics, and more.

3095 CA-1, Bodega Bay, CA 94923
13.

Coleman Valley Bike Route

Get a taste of the great outdoors on a 12-mile bike route that winds its way through open meadows, lush valleys, and the grassy highlands that border the rocky California coast.

16715 Coleman Valley Rd, Occidental, CA, 95465
14.

Wild Flour Bread

Fresh baked artisan breads daily, perfect for a picnic on Bodega Head.

140 Bohemian Hwy Freestone, CA 95472
11 MIN - 8.8 MI
15.

Salt Point State Park

Featuring one of California's first ever underwater parks and an unparalleled view of the Pacific Ocean, this 6,000-acre park provides ample space to hike, swim, and explore the rugged California wilderness.

25050 CA-1, Jenner, CA 95450
16.

Candy & Kites

Stock up on saltwater taffy and chocolate treats while sifting through unique toys, vibrant kites and more at this beloved local business that sits on Bay Highway.

1415 CA-1, Bodega Bay, CA 94923
17.

Chanslor Stables

Explore the enchanting nature of the Sonoma Coast—from the Miwok meadow and Wetlands Wildlife Preserve to the State Park sand dunes—on horseback with Chanslor Stables, a full service, operating horse ranch that offers activities for all ages.

2660 CA-1, Bodega Bay, CA 94923
18.

Horse N Around Trail Rides

With panoramic views of Bodega Bay's rolling hills, the horses at Horse N Around Trail Rides are fully equipped to take you on a one-of-a-kind journey through the Sonoma Coast, including a gentle trot to the Trout Pond Trail and potato pasture.

18401 CA-1, Bodega Bay, CA 94923
19.

Bodega Bay Kayak

Navigate the placid waters of Bodega Bay and the surrounding estuaries on a vessel of your own with a kayak ride across the Sonoma Coast.

1580 Eastshore Rd, Bodega Bay, CA 94923
20.

Bodega Bay Surf Shack

Conveniently located on the edge of Bay Highway, this independently owned surf store is open 7 days a week for any and all things surf—including retail, rentals and lessons for novices and pros alike.

1400 CA-1 e, Bodega Bay, CA 94923
21.

The Links at Bodega Harbor

Where wine country meets the Sonoma Coast, this Scottish style links course invites golfers of all experience levels to set their tee time on a premier course that features undulating greens, rolling fairways, and an unimpeded view of the Pacific Ocean.

21301 Heron Dr, Bodega Bay, CA 94923
22.

Potter Schoolhouse

Infamously known as one of the filming locations in the 1963 horror movie The Birds, the Potter Schoolhouse is a historic landmark that has been carefully preserved for over 150 years.

17110 Bodega Ln, Bodega, CA 94922
23.

Sonoma Canopy Tours

Tucked deep in the redwood forest, experience thrilling flights and sweeping views on this soaring zipline adventure that doubles as an educational eco-tour.

6250 Bohemian Hwy, Occidental, CA 95465
24.

Lynmar Estate

Bliss begins at Lynmar Estate, a family-owned winery that produces sustainably farmed, ultra-premium pinot noir and chardonnay.

3909 Frei Rd, Sebastopol, CA 95472
25.

Marimar Estate

Consisting of the expansive Doña Margarita and Don Miguel Vineyards, named after the family patriarch and matriarch, the Marimar Estate winery invites guests to experience warm California hospitality with a uniquely Catalonian edge.

11400 Graton Rd, Sebastopol, CA 95472
26.

Peay Vineyards

Perched on a knoll that overlooks bronzed fields just miles from the Pacific Ocean, Peay Vineyards produces small-batch wines in the heart of Western Sonoma County.

227 Treadway Dr, Cloverdale, CA 95425
27.

Iron Horse Winery

Rustic elegance is put on display in this charming estate winery offering intimate tastings that overlook the sweeping vistas of Sonoma coupled with sparkling wines, chardonnays and pinot noirs.

800 Bay Hwy, Bodega Bay, CA 94923
28.

Freeman Vineyard & Winery

At the intersection of provenance, inspiration, and artistry, Freeman Vineyard & Winery produces limited-production, cool-climate Pinot Noir and Chardonnay characterized by uncompromising grace and complexity.

1300 Montgomery Rd, Sebastopol, CA 95472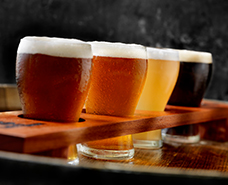 29.

Stumptown Brewery

Showcasing a rotating list of in-house and guest brews coupled with a full pub menu, Stumptown Brewery is a local favorite that promises world-class beer to go with the excellent patio views overlooking the Russian River.

15045 River Rd, Guerneville, CA 95446
30.

Gary Farrell Vineyards & Winery

Firmly rooted in the heart and soul of the Russian River Valley, this highly-lauded winery crafts wines that each tell a unique story, echoing the rich legacy of the fertile vineyards where they are produced.

10701 Westside Rd, Healdsburg, CA 95448
31.

Valley Ford Creamery

Nestled on the rural coast of Sonoma County, Valley Ford Cheese & Creamery produces handcrafted, Italian-style cheeses made from 100% Jersey cows milk.

14390 Valley Ford Rd, Valley Ford, CA 94972
32.

River's End Restaurant

Featuring romantic, unobstructed views of the Russian River Valley paired with fine dining options that reflect the region's bounty, River's End Restaurant proudly takes guests on an epicurean culinary journey.

11048 CA-1, Jenner, CA 95450
33.

Nick's Cove Restaurant & Oyster Bar

Savor locally harvested oysters alongside fresh crab macaroni and cheese and other coastal California fare at this award-winning destination restaurant.

23240 CA-1, Marshall, CA 94940
34.

Dutton-Goldfield Winery

Dutton-Goldfield Winery, a collection of 1,300 acres in the Russian River Valley, produces world-class craft wines that reflect the subtle elegance of their expansive coastal vineyards.

3100 Gravenstein Hwy N, Sebastopol, CA 95472
35.

Spirit Works Distillery

With an emphasis on in-house grain-to-glass production, Spirit Works Distillery is a woman-led, family-run distillery located in the heart of Sonoma County.

6790 McKinley St #100, Sebastopol, CA 95472
36.

Bodega Bay Oyster Co.

Family-owned and operated since 1985, Bodega Bay Oyster Co. grills freshly-caught, sustainably sourced shellfish in an open-air concept, including a bay-to-bottle experience that pairs local wines with fresh oysters.

12830 Valley Ford Rd, Petaluma, CA 94952
37.

Russian River Brewing

Conveniently located in the heart of Sonoma County, Russian River Brewing presents a 'brewpub' concept that features clean and sour barrel-aged beers, an outdoor beer garden, and more.

725 4th St, Santa Rosa, CA 95404
38.

Occidental Creamery

Sample Sonoma County's most creative and handmade goat, cow, sheep, and water buffalo milk cheeses at this artisanal creamery.

7380 Occidental Rd, Sebastopol, CA 95472
39.

Tony's Seafood

A beloved hub for gathering, celebrating, and connecting, Tony's Seafood is a hallmark of the Marshall, California community serving sustainably sourced, quality shellfish and seafood.

18863 Shoreline Hwy, Marshall, CA 94940
40.

Cowgirl Creamery

Home of the famous triple cream Mt. Tam cheese, Cowgirl Creamery makes organic "cheese with heart," ranging from tried-and-true dairy farm favorites to inventive seasonal offerings.

80 4th St, Point Reyes Station, CA 94956
Our Favorite Things
There's so much to explore along the coast. We've curated our favorite activities for you to craft a getaway to remember. 
A Birder's Paradise
Bodega Bay is uniquely suited for fantastic bird watching. In fact, it offers some of the best birding in the country. Its location on the west coast migratory route, coupled with a rich and diverse habitat, makes for great sightings all year long. We welcome newcomers and experienced birders alike to share in the joy of nature's fabulous display.
FAMOUS BIRDS OF BODEGA BAY
Alfred Hitchcock's classic, The Birds, was filmed in and around Bodega Bay. Movie buffs will delight in spotting the famous locations, including the Potter Schoolhouse. View memorabilia on display at the country store across the street or attend our annual Hitchcock festival held in March.